What is Primetime for … Big Data?
The conference Primetime for ... Big Data is a professional platform for everyone wanting to use data and AI to do great business. It´s program demonstrates shows how the targeted work with data is beneficial in better customer understanding and care. It focuses primarily on the strategic use of big data.
The Conference builds on the previous 4 years, which always attracted more than 200 participants and clearly showed that the work with data is not a mere fashion. On the contrary it represents a great potential, not fully used by many companies so far.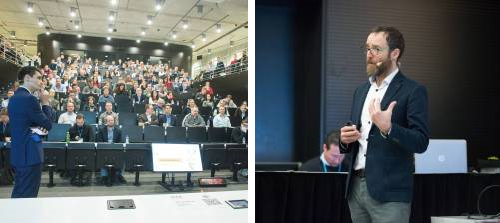 What will the year 2019 be about?
Nowadays, there is hardly any company that is not touched by the phenomenon of big data. Everyone is collecting, storing and sorting them, but can we transform them into success?
With regard to the amount of disposable data, how to use the artificial intelligence or machine learning to help us in decision-making? Whether in the field of product marketing and customer communication, or in building information systems that reveals risks, optimate operations and financial flows.
This year´s conference edition will show practical examples of what can be hidden in Data and how to find it. Simply: How to melt Data into success.
Who is it for?
Primetime for... Big Data is targeted for all who are interested in the use of data and artificial intelligence for effective management, strategic or operational decisions. It is intended for marketing, commercial and financial directors and managers, leading specialists from the field of operations, customer experience, or human resources from companies across all sectors.